| Overall Rating | 4.3/5.0 |
| --- | --- |
| Communication | |
| Matching System | |
| Mobile Usability | |
| Registration | |
| Support | |
| Terms And Conditions | |


Love2Meet calls itself the online dating site where genuine singles meet and form relationships. The site is run by Global Personals Limited, a UK company specializing in the development of online dating websites for the singles community. Love2Meet has thousands of members who are looking for fun, friendship, romance or a long term relationship.

Visit Love2Meet Website >>
---
Love2Meet Communication
| Overall Rating | |
| --- | --- |
| E-Mail | |
| Chat Functions | |
| Video Chat | |
Love2Meet provides very well and easy to use communication features. Contacting other members of interest by e-mail is easily possible. For immediate contact, there is also a live-chat. Chatting per video is not possible. All together Love2Meet makes it easy and comfortable to get in contact with other members.
---
Love2Meet Matching System
| Overall Rating | |
| --- | --- |
| Personality Test | |
| Profile Matching | |
| Profile Visitors | |
| Block Users | |
Love2Meet has a good matching system. A detailed personality questionnaire is missing. There is a sophisticated and well thought of system to match profiles by numerous criteria. You have the possibility to see who has visited your profile. You can block other users if you wish so. The matching system of Love2Meet gives you everything you need for successful online dating.
---
Love2Meet Search Features
| Overall Rating | |
| --- | --- |
| Picture Search | |
| Keyword Search | |
| Now-Online Search | |
| Search By Profile Criteria | |
| Show New Members | |
Users on Love2Meet have a variety of search functions available. Other attractive members can be found by browsing their profile pictures. A keyword search function though is not available. You can easily see other members that are online. A search for different profile criteria is available. New members can be searched for especially. All in all on Love2Meet you have all the possibilities you need for an effective search.
---
Love2Meet Mobile Use
| Overall Rating | |
| --- | --- |
| Mobile Usability | |
| App Usability | 0 |
| Android App | |
| iPhone App | |
Concerning the mobile usability Love2Meet is positioned in the midfield. The mobile version of the Love2Meet website is appealing and easy to use. The app usability cannot be judged as there are no mobile apps available up to the present day. In summary, Love2Meet can be used easily on a mobile device even though there are no apps available.
---
Love2Meet Usability
| Overall Rating | |
| --- | --- |
| Login with Facebook | |
| Ease Of Registration | |
| Ease Of Use | |
Love2Meet makes registration fun and easy. The registration process is self-explaining and step by step. Within a few minutes, you have set up your own profile. Once registered it is great fun to use the website. All together Love2Meet has a good registration process and is fun to use.
---
Love2Meet Popularity
| Overall Rating | |
| --- | --- |
| Facebook | |
| Male/Female Ratio | 51/49 |
| Main Age Range | 25-40 |
Love2Meet is a popular dating website with a significant user base in the UK. The ratio of men to women is well distributed. Agewise, Love2Meet addresses a broad range of singles. Altogether, a good choice for any UK single in search of fun, friendship or a long-term relationship.
---
Love2Meet Support
| Overall Rating | |
| --- | --- |
| Support FAQ | |
| E-mail / Contact Form | |
| Phone | |
| Helpful Articles | |
| Forum | |
Love2Meet delivers premium support for its users. An exhaustive FAQ is available for self-help purposes. A collection of articles delivers valuable information on specific dating topics. In need of personal support, you can contact Love2Meet by phone. A forum for users is not available. Taken all together the support at Love2Meet is very good.
---
Love2Meet Terms And Conditions
| Overall Rating | |
| --- | --- |
| Free Offer | |
| Highest Price | 59.00 USD |
| Lowest Price | 27.00 USD |
| Free Trial Period | 0 |
| Monthly Plan | |
Terms of service and pricing are appealing. The free membership is restricted in it's features. A flexible membership on a monthly basis is possible. If you are willing to book a long term membership, the monthly fee is especially low. Overall, Love2Meet delivers a good offer concerning terms and pricing.
---
Love2Meet Summary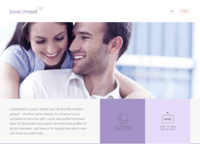 Love2Meet is a great choice if you are in search of friends, romance or that special long term relationship. Communicating with other members is fun and easy. The website has a good profile matching system. A variety of search functions is at your hands. The mobile version of the website leaves nothing to be desired. Registering on the site is easy and using Love2Meet is fun and entertaining. The site has a significant user base. Love2Meet provides extraordinarily good support for it's members. Terms and pricing are transparent and fair. Altogether, Love2Meet is a great choice.